Sunnyvale, Calif., May 16, 2023, Cuvée Systems in partnership with Luminus, has announced its newest 2-channel driver – the Cuvée CCT Tunable driver. The DMR-AOD Series 2 Channel LED driver offers universal input voltages (120-277V), CCT Tunable with dual 0/1 – 10V dimming control, and superior performance for small to medium size lighting fixtures, such as downlights, tracklights/spotlights and wall sconces where small form factor, precise CCT tunable control, flicker free, and high reliability are critical factors. This driver is programmable over a wide range of currents from 150mA to 1050mA and accepts a variety of voltage outputs from 12V to 40V ensuring the broadest COB compatibility and SKU reduction across your next generation of white tunable fixtures. CEO Ray Chock notes, "We're excited to bring this driver to market to address the next stage in lighting – tunable white applications. Our engineers have delivered an exceptional dual channel solution with flicker free, deep dimming performance which is also UL Class P certified."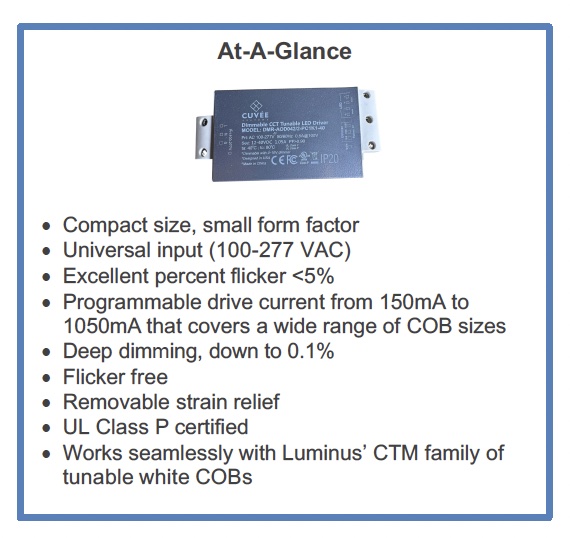 For a full list of features and applications visit https://cuveesystems.com/solution-portfolio/cct-tunable-driver/.

To learn more about this driver and others from Cuvée Systems in person, visit Lightfair in NYC from May 23-25, 2023. The Cuvée Systems brand of drivers are exclusively available from Luminus and the Luminus worldwide franchised distributor network. Limited samples available now, with mass production volumes available in early June.
NEWS RELEASE (PDF Copy Link)
About Cuvée Systems
Cuvée Systems is on a mission to bring the most innovative power electronics to life. Our focus is on combining world class design, high-volume manufacturing, and in-depth application experience to create sleek, reliable, high performance power electronics for the lighting industry. Cuvée has business hubs in Sunnyvale, CA and Xiamen, China enabling the best of both worlds with the talent and leading-edge technology in the Silicon Valley while leveraging the manufacturing prowess and economics of our China based production factories. We bring power-to-light solutions that enable the next generation lighting systems. www.cuveesystems.com
Contact: Ray Chock E-mail: [email protected]

About Luminus Devices, Inc.
Luminus Devices, Inc. develops and markets solid-state lighting solutions (SSL) to help its customers migrate from conventional lamp technologies to long-life and energy-efficient LED illumination. Combining technology originated from the Massachusetts Institute of Technology (MIT) with innovation from Silicon Valley, Luminus offers a comprehensive range of LED solutions for global lighting markets as well as high-output specialty lighting solutions for performance-driven markets including consumer displays, entertainment lighting and medical applications. Luminus is headquartered in Sunnyvale, California. For additional information please visit http://www.luminus.com.
News Archives
10/20/22 – Cuvée Systems, in partnership with Luminus, has announced its newest addition to the EZI-Set family of compact drivers – the DITR round in-track driver.
11/3/21 – Cuvée Systems and Luminus Release 120V Compact Phase-Cut Drivers
Specifically Designed to Fit in Small Lighting Fixtures
3/12/20 – Cuvée Systems, Inc® Breaks Through with IP68 Compact LED Driver and Unique System Level COB + Driver Warranty